Skip to Content
Ohio Orthopaedic Center
Specializing in Orthopaedic Medicine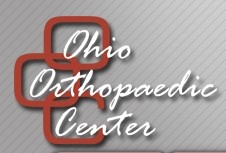 Ohio Orthopaedic Center will remain open to treat our patients through this Corona Virus crisis. Our hours and services remain the same as they always have. We will require patients who are sick and have any of these symptoms; Cough, Sneezing, Runny Nose, and Fever to reschedule their appointments to a future date. Patients who come to the office with any of these symptoms will be rescheduled.
We care about the health and welfare of all of our patients and believe these measures will help to insure that. Thank you to all for your support and cooperation.
Welcome to Ohio Orthopaedic Center
Ohio Orthopaedic Center is dedicated to providing our patients with an unsurpassed level of care with excellent outcomes and quicker recovery times. Our practice has on-site diagnostic equipment including digital x-ray and Magnetic Resonance Imaging for quicker access and faster results. In-office treatments such as bracing, joint therapy and physical therapy may eliminate the need for surgical procedures.
If surgery is indicated the physicians of Ohio Orthopaedic Center specialize in sports injuries, arthroscopy, total joint replacement, adult reconstructive surgery and adult and pediatric trauma. Our Physical therapy department works with our physicians to design a personalized post-surgery therapy plan to get you back to normal activity quickly.
2405 N Columbus St #120, Lancaster, OH 43130, USA
2405 N Columbus St, Lancaster, OH 43130, USA
417 Hill Rd N, Pickerington, OH 43147, USA